Prices World Sugar Market
Since the end of the sugar market regulation on October 1, 2017, EU sugar beet growers have been significantly more dependent on international sugar prices, which are traded on the stock exchanges in London and New York as well as within the EU. Although some sugar manufacturers have also offered farmers payment models with three-year fixed prices, it is now more worthwhile than ever to look at the international markets.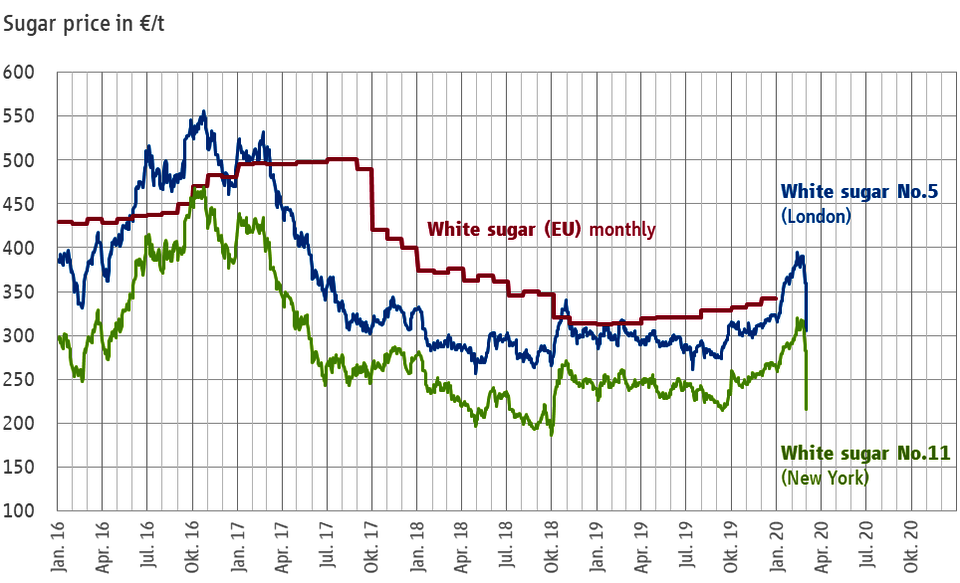 Enormous increases in the prices of sugar - Why?
10.10.2018
Enormous increases in the prices of sugar - Why?
The world market price for sugar is currently attracting attention due to a rapid increase. One of the reasons for this may well be the strong appreciation of the Brazilian real against the US dollar. The conservative-neoliberal presidential candidate Bolsonaro, who is favoured by the markets, has clearly won the first round of the presidential elections and therefore supports this trend. The same also applies to coffee, an important agricultural raw material for Brazil. Coffee and sugar prices have been on the way down for months. Large short sellers (speculative financial investors) took these strong trends into account and bet on further falling prices. Due to the sudden positive development of exchange rates, they were forced to cover themselves with large positions. This led to enormous price fluctuations on the raw materials market.
Hurricane Michael is currently causing the loss of about 40% of oil production capacity in the Gulf of Mexico. Gasoline prices in the USA are rising and rising. To counteract this, US-President Trump has announced the approval of E15. Until now, E10 has been the usual fuel in the USA. In the USA ethanol is mainly produced from corn. The farmers, an important clientele for the upcoming congress elections, should benefit from this: About 40 % of the US corn harvest is expected to go into ethanol production. The smoldering trade dispute with China has led to a sharp drop in income from soybeans, which could now be replaced by corn in cultivation.
Ethanol can of course also be produced from sugar cane or sugar beet. It is also possible that the assumption that this will happen will lead to a short-term increase and support of sugar prices.
As a rule, however, political stock markets have short legs and a forecast remains difficult.
Sources: Commerzbank Commodity Research, ARD stock exchange, Own observations
World sugar price since 2008