Seed
from Strube.
For you.
With the desire to satisfy the rising demand for new wheat varieties, the farmer Friedrich Strube started breeding in the year 1877. At Strube, this boundless scientific curiosity still runs in our veins today. The proximity to the practice and the agricultural tradition formed our foundation right from the beginning. This gives us the strength to look optimistically into the future.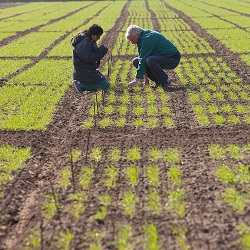 Strube worldwide: We are a global plant breeding company offering seeds of various crops in numerous countries. At Strube, you not only receive varieties in outstanding seed quality, but also the best service and advice.
The satisfaction of our customers is and was always our topmost priority. We conduct intensive research with great care in the area of seed quality and are a European leader in this sector. We are interested in finding out which production parameters influence the quality of the seed.
The challenge here is to measure these insights. Our testing methods, which we have developed by ourselves and in successful research projects with various partners, enable us to do this.
What defines us at Strube