Strube's sunflower hybrids are known for high yield potential and good oil contents while maintaining excellent quality! We offer many tolerances and resistances to both diseases and plant protection products. We can therefore supply you with healthy and dependable high yield varieties.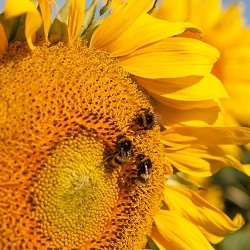 Sunflowers are internationally appreciated
The plant breeder Strube Research is our partner and has a broad range of registered varieties. The company performs most of its selection work in Spain, but also now in Germany. Strube GmbH distributes these varieties, which are cultivated in many European countries and appreciated for their good properties. With this diverse assortment, we can offer the ideal variety to meet your requirements - adapted to your region with its individual challenges. As we have sunflower varieties with a range of different flowering and harvest dates, you can plan your crops with flexibility.


Cultivation area sunflower