Viral yellows are a major problem for the sugar industry and has long been a focus of breeding.
It is a group of viruses that affect the leaves of sugar beet. Infected by the green peach aphid and the black bean aphid, the leaves gradually turn yellow and brittle. An infected field will have yellowed nests that are randomly distributed after the infection foci spread. The consequence is that photosynthesis and plant development will be severely affected. The infestation can lead to yield losses of up to -50% and sugar content losses of up to 2%!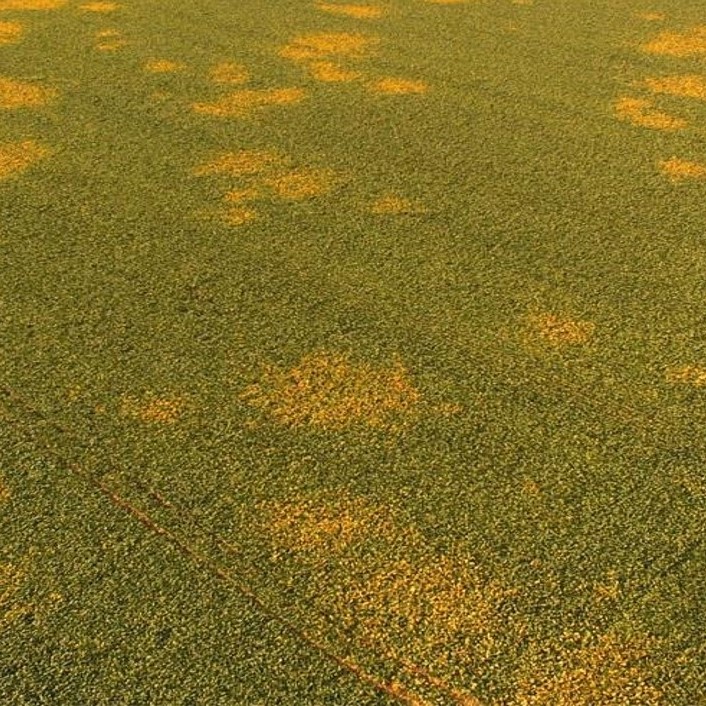 Many European countries, the ban on neonicotinoids has become a serious problem in beet cultivation. Today, the genetic resources we have are capable of securing 85% of their potential yield even under very high virus yellows pressure. It is with pride that we are able to propose first varieties for the next sowing campaigns.
As of 2015
Genetic mapping of hybrids and their components against the three viruses BChV, BYV, BMYV. Inoculation of a varietal pool with one or more of these viruses in a controlled environment.
Result: a real genetic differentiation of some of our varieties against the viruses was demonstrated. We now measure the importance of this real asset.
2019
Launch of the MODEFY scientific program to combat virus yellows.
Implementation of viruliferous aphid inoculation trials, in tunnels and in the open field on plants of the beta genus (sugar beet, pear, red beet, cardoon, wild beet, etc).
2021
Identification of genes of interest from field surveys, yield measurements and molecular marking.
First screening of sugar beet varieties and their parental lines.
And concretely, what are the prospects for 2022/2023 for the grower?
The results obtained in 2021 within the framework of the PROBEET and MODEFY programs confirm the trend announced by the work relaunched in 2015.
Today, several varieties our commercial and pre-commercial range are encouraging because of their good behaviour in infested situations. In the medium term, the integration of yellows tolerance into our germplasm will probably be faster than initially expected. The next step in our work is to build a range that combines this tolerance with the yield and tolerance levels expected by the market.
Look forward to exciting topics and results on Virus Yellows:
All blog posts about the project MODEFY
Funding regions of the project: